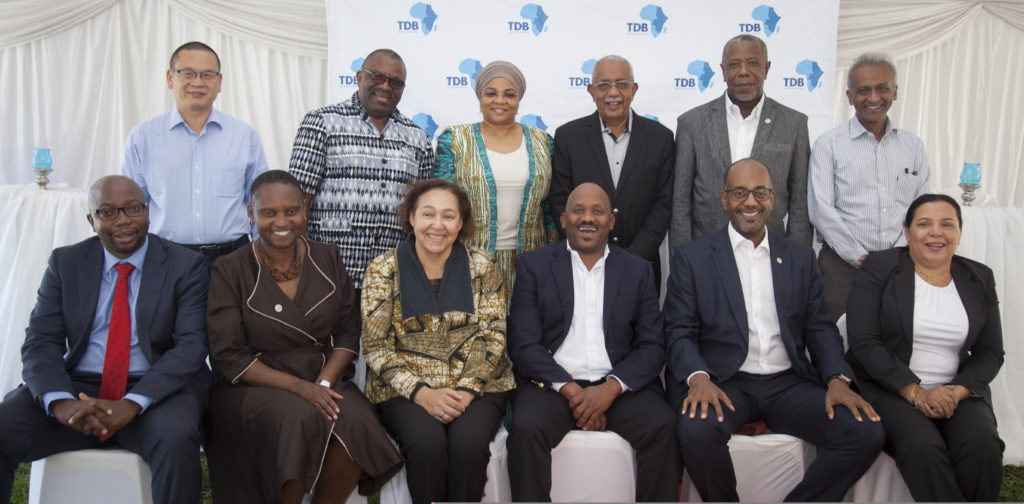 TDB and UNTU Capital sign an MOU as part of the inauguration of TDB's SME Programme in Zimbabwe.
Harare, October 2nd 2018 –  TDB launches SME Programme Building on its strong growth and expanded capacity, the Eastern and Southern African Trade and Development Bank (TDB) is launching a brand-new programme specially designed to support innovative, impactful and scalable small and medium-sized enterprises (SMEs).
The SME Programme is inaugurated at TDB's Harare Regional Office by H.E. Ambassador Dr. Rudo Chitiga, Permanent Secretary at the Ministry of Women Affairs, Community, Small and Medium Enterprise Development, and Mr. Admassu Tadesse, TDB President and Chief Executive, with in attendance, various Zimbabwean entrepreneurs, relevant private sector associations as well as national and regional institutional investors.
As part of the inception of the Bank's SME Programme, TDB and UNTU Capital are signing today, a Memorandum of Understanding (MOU) centred on the entities' collaboration in addressing the SME-financing gap in Zimbabwe.
The Bank recognises the role SMEs have to play in generating meaningful development impact and advancing sustainable growth in the Member States it serves. According to a 2017 Statement from the Reserve Bank of Zimbabwe Governor, SMEs contribute to 60% of the country's GDP and represent 73% of its total workforce, while the World Bank reports that emerging market SMEs globally contribute to up to 60% of total employment, 4 out of 5 new jobs created, and as much as 40% of GDP.
At the same time, according to the same source, about 70% of micro, small and medium-sized enterprises (MSMEs) lack access to an estimated US$ 1.2 trillion in credit in the formal sector in emerging economies globally. Likewise, for sub-Saharan Africa, AfDB reports the gap to be of US$ 331 billion for all SMEs, and US$ 42 billion for women entrepreneurs in particular.
To this effect, US$ 3 million have been allocated by TDB to pilot its SME Programme over the next two years in Burundi, Ethiopia, Kenya, Malawi, Zambia and Zimbabwe. Hand-in-hand with partners such as UNTU Capital, these funds are made available for investment into MSMEs – particularly those led by youth and women – through loans, guarantees and capacity building interventions, in financial services, agribusiness, mining, leather and tanning, as well as in manufacturing.
Ultimately, TDB's SME Programme should grow into a unique vehicle, which offers a much needed alternative source of financing in the SME space while delivering attractive returns and advancing sustainable development perspectives in the Region.