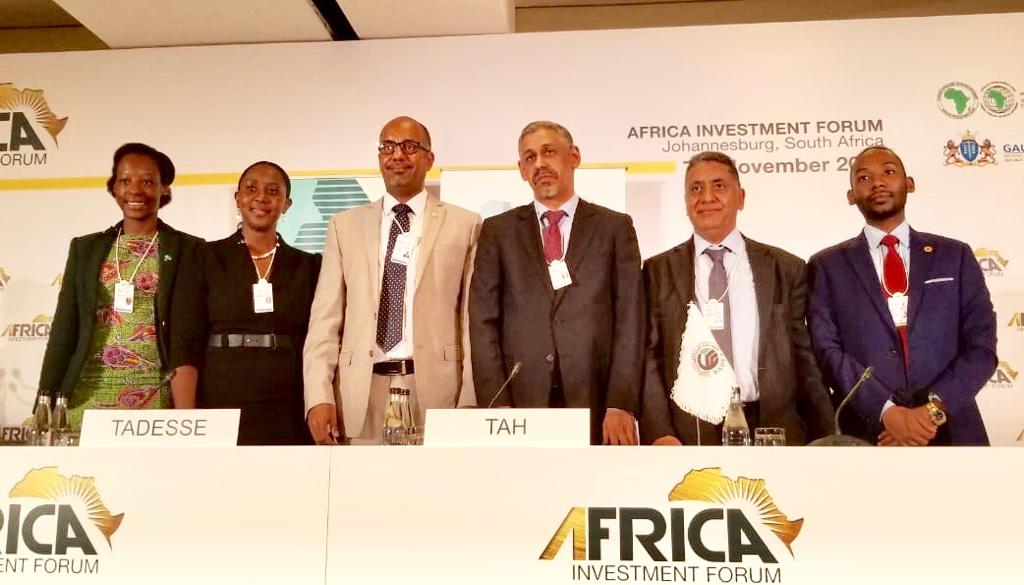 With an investment of US$ 10 million in TDB's Class B shares, BADEA becomes TDB's 12th institutional shareholder
Johannesburg, November 8, 2018 – TDB is pleased to announce the signing today, of a membership and subscription agreement with the Arab Bank for Economic Development in Africa (BADEA) and is honoured to hold the signing ceremony during the African Development Bank's inaugural Africa Investment Forum.
BADEA becomes TDB's twelfth institutional shareholder with an investment of US$ 10 million. This investment builds on a four-year partnership with BADEA, during which a total of US$ 55 million in lines of credit were extended by BADEA for the benefit of promoting trade between Arab countries and the Bank's Member States, as well as infrastructure project finance activities throughout the Region.
Commenting on today's signing, TDB President and Chief Executive, Mr. Admassu Tadesse says that the Bank "is delighted to elevate its existing cooperation with BADEA to a strategic partnership level, and pleased to welcome BADEA to TDB's diverse shareholder community. We are excited by the promise to make a bigger impact in our region together with BADEA."
The Bank's membership comprises 22 Member States from across COMESA, EAC and SADC, 2 non-regional members, Belarus and China, as well as 12 institutional shareholders. In addition to BADEA, the latter include the African Development Bank, Africa Reinsurance Corporation, Banco Nacional de Investimento (Mozambique), Mauritian Eagle Insurance Company, National Pension Fund (Mauritius), National Social Security Fund (Uganda), OPEC Fund for International Development (OFID), PTA Reinsurance Company, Rwanda Social Security Board, Sacos Group (Seychelles) and Seychelles Pension Fund.
Since early 2013, institutional investors and DFIs have invested more than US$ 153 million in TDB's Class B shares, significantly above capital raising targets. In addition to high returns, Class B shares also offer significant development impact, through TDB's investments in projects and infrastructure, and support for the security and supply of strategic commodities in Member States. TDB plans to further grow its geographic footprint and impact, and expects to continue rewarding investors with attractive dividend yields and capital growth.
Commenting on the signing ceremony, Dr. Sidi Ould Tah, BADEA's Director General notes that BADEA "is excited to see the partnership between the two institutions; which goes back to only 2015, is now reaching new heights with BADEA's equity investment of US$ 10 million being signed today. We highly value the fruitful cooperation that BADEA and TDB have been able to develop over the last few years as we aspire to achieve a visible development impact in the region's economies."
###
About TDB
Established in 1985, the Eastern and Southern African Trade and Development Bank (TDB) is a multilateral, treaty-based development financial institution, with assets of over
US$ 5 billion. By providing different types of financing, TDB fosters trade, regional economic integration and sustainable development, prioritizing projects with cross-border impact.
About BADEA
Established in 1974, the Arab Bank for Economic Development in Africa (BADEA) is a multilateral development financial institution owned by eighteen Arab countries. Its governed by the provisions of its Establishing Agreement and the principles of international law, BADEA's operations cover the entire Sub-Saharan African (SSA) region. It was created for the purposes of strengthening economic, financial and technical cooperation between the Arab world and Africa, and for the embodiment of Arab-African solidarity on foundations of equality and friendship. To this end, BADEA is mandated to participate in financing of development projects in Sub-Saharan Africa and attract Arab investments to participate in the economic development of the region as well to help provide part of the necessary technical assistance grants required for economic and social development in Africa. As of December 2017, BADEA's total assets and total shareholders' funds amounted to US$ 4.9 billion and US$ 4.8 billion respectively.
Media Contacts
Anne-Marie Iskandar, Senior Communications Officer
Investor Relations and Corporate Affairs, TDB
Anne-Marie.Iskandar@tdbgroup.org
Mohamed Zaki
Head of Information and Communication Division, BADEA